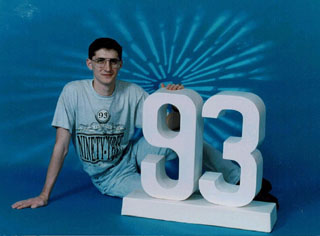 On March 21, 1993, a tragic car accident claimed the life of my 17-year-old son. Nothing in life prepared me for the initial, unbearable pain and sense of deep loss. Part of me died, believing life would never exist again.
Mathias was taking his friend home. By 2 o'clock, he should have been home. Three and a half hours later, we heard what we didn't want to hear. We received a phone call verifying our address. Then instead of Mathias walking through that door, Officer Duckett from the Missouri Highway Patrol knocked on our door. He showed a driver's license to my husband, asking if this was our son.
The next few minutes were a blur as the officer informed us that there had been a tragic accident. Mathias was killed instantly. I heard him talking, but my mind was already in denial. I really was not hearing his words. Finally, I asked Officer Duckett if our son was dead. I will never forget his words, "Yes, Ma'am. I'm sorry," and he probably will never forget my scream.
Almost immediately after word was out, friends arrived at our home offering comfort where needed. They helped in making phone calls. Our pastor's wife kept placing a cold wet wash cloth on my face. People from the church began bringing in food for all the visitors. Our small apartment was packed. No matter how many visitors, the pain of my son's death left me with uncontrollable sobbing.
The next day out of state family began to arrive. My sister-in-law drove all night to get to our home as soon as possible. My mother-in-law and another sister were flying in to St. Louis and arrangements were made to pick them up. My other son and his family were flying in from North Carolina where he was stationed in the Marine Corps. I thank God for my husband's family as no one in my family came.
Nothing in the world could prepare me for that first morning when we had to go to the funeral home to make the arrangements. As parents, we should not be sitting there making arrangements for our child. It should have been in reverse order. My sister-in-law was with us as well as well as Pastor Tim Morgan. Till this day, I will never forget being handed our son's possessions. And the pain of having to walk into a room filled with caskets was a chilling experience. How do you pick out a casket to place your child into knowing when that casket is closed, you will only have memories to hold on to. You will never get to hold their hand anymore. No more of those unexpected, warming hugs.
Then comes the viewing and the funeral. I had not seen our son since he had walked out of the home Sunday afternoon. Now it is Tuesday evening, and it was time for family to meet friends. When I walked into the door of the funeral home, I was stopped in my tracks as I looked into the viewing room and saw Mathias in that casket surrounded by flowers. I couldn't move and my husband and our friend, Dr. Wheeler, had to almost drag me to the casket. Mathias looked perfect and at so much peace. He was home now with his Lord and Savior whom he loved. I have to admit that I didn't want to leave Mathias that night. I am sure you can relate to that terrible lump in your throat.
The next day was the funeral. It was a beautiful service, and I appreciate Pastor Morgan for all the kind words that he shared about Mathias. At the burial, the Marine recruiter presented us with an American flag as Mathias was in the delayed entry program of the Marine Corps. He was already in training and working so hard to be the best Marine. It meant a lot to see him honored by being presented the flag, which I cherish.
Then it happened. Family returned home. Friends had to return to their lives. Two weeks later, Rick Jr. and his family had to return to North Carolina. Watching them board the plane was saying goodbye to our perfect family. The days became long, and depression steadily began to play an important facet of my life. No longer could I see any worth to going on living. It kept getting worse until I finally decided that I needed to decide if I wanted to do something positive with the death of Mathias or if I wanted to die as a result of my own grief. It was then that I really began to lift up my head to God. There must be something God would have me do so Mathias' life will not have been in vain, I prayed. And God being the faithful God He is, gave me the answer.
Reading the obituaries opened my mind to the sensitivity of other hurting parents. Yes, here is where God needed me. What could I do to help them? Through my own experience, I recognized the pain that they were going through. Friends often times try to help, but many words are said that can actually inflict more pain. It isn't their fault. Unless they have been through it, they don't really know what to say, but they want to say something. So many times I was told, "Well at least you have a grandson now". Yes, we had a 5 month old grandson, but I had room in my heart for everyone. My mother-in-law knew that pain as just two years before, she lost a son. I wanted to reach out and touch grieving parents.
Mathias had a heart of gold and was always giving in some way. Why not carry on his tenderness? Thus, Angelic Rainbow Ministree was born -- to reach out to other grieving parents. Angelic as our child is now with the angels. Rainbow for the hope God has given us to see our child again in heaven. Ministree for the growing need for life to continue. A tree goes through many storms, but it continue to be strong and to grow. This is what we as parents need to do. God had given me an answer. Now it was up to me to obey what God had asked.
Angelic Rainbow Ministree is dedicated to God. I write an individual letter to the grieving parents. I send a packet of helpful Scriptures, sayings, and poems. I lend them my ear if they need to talk. God directs my path.
My hope and prayer is that individuals will pass on my ministry to others whom they know has lost a child. God calls many children home through tragic accidents and illnesses. Help me share victory through pain. Tell them about this website. Give them the opportunity to share happy memories as well as share their grief. We do not understand why God chooses to take our children home, but we know it is for His perfect reason.
"You saw me before I was born and scheduled each day of my life before I began to breathe. Every day was recorded in Your Book!" (Psalm 139:16 TLB).
This ministry is open to all grieving parents, grandparents, aunts, uncles, friends. In other words, all are welcome to contact me. I am looking forward to sharing God's love around the world.
I truly feel blessed when I hear from the family. You may contact through my email address or write me at:Karen Strait at 32 Burks Rd. Farmington, MO 63640-1406.
Located on these pages will be things that will hopefully help family members and friends in the grieving process caused by the loss of a child. Since this is web site is just beginning, there are not many pages yet, but pages will continually be added on. Also, other families who have lost a child may contribute by sending a picture of their child and poems or reflections. I will make a link for you to share your story with. The first item we will start with is the family's memories
in the form of a scrap book.
Scrap Books
The Strait Family
The Wimes Family
Butch and Debbie
The Herren Family
The Peterson Family